An interesting array of stock, including . . . .
. . . . furniture, decorative pieces for the home, silver, ceramics, jewellery, kitchenalia, militaria, postcards, thimbles, quirky bits and pieces . . . . and much, much more! 
We also offer a pearl and bead rethreading service at very competitive rates.
A perfect gift . . .
We often have people present shopping for birthdays, weddings, anniversaries, etc. They always go away delighted with their finds.
We even had a lady starting her Christmas present buying in February!
A welcoming and friendly atmosphere . . .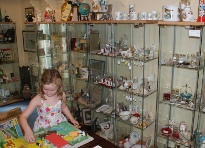 We wanted our shop to have a friendly atmosphere and judging by the number of people who drop in for a chat, we think we have succeeded!
We are told 'it is a lovely place to come and browse'.
The sort of items we stock . . .
Click on the images below to see items that are typical of our stock. We cannot guarantee these particular items are currently available. Go to our
Facebook pages
to see more.